April 19, 2017
Thousands can't afford nutritious food in Waterloo Region
by Samantha Beattie Waterloo Chronicle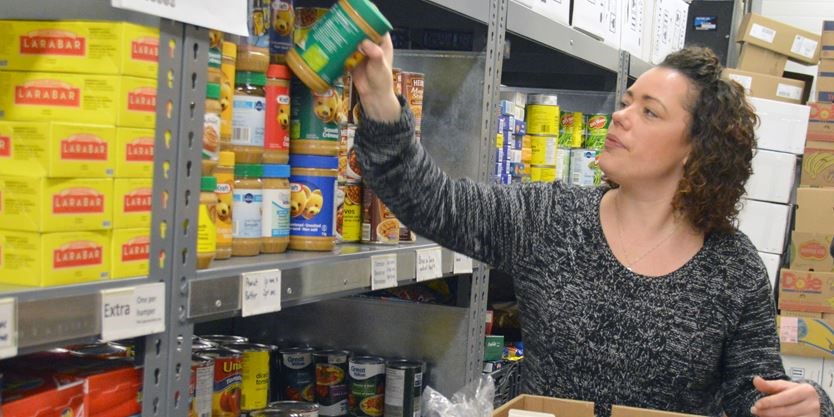 Candace Perry has volunteered at House of Friendship, filling emergency food hampers, for the past five years. – Samantha Beattie Photo
It wasn't the fact she was poor that embarrassed Candace Perry the most. It was that she had to ask people for something they took for granted — food.
As a single mother with a disability relying on government income assistance, Perry would pick up an emergency food hamper just down the road from her Kitchener home, at House of Friendship. The cost of fresh fruit, vegetables and dairy didn't always fit into her budget.
"Rent comes out every month unfortunately, and it's a big chunk," said Perry. "The healthy stuff is more expensive. Transportation is difficult, too."
Five years ago she became a volunteer at House of Friendship's emergency food hamper program. For the most part, she doesn't need food assistance anymore, but she tries to make it easier for the many who do.
"I remind myself people aren't exactly happy to be asking for help," she said. "I think (House of Friendship) as less like being a charity and more like giving people their right to have access to healthy food.
"Pride is best left out of it. We are all equal."
About 20,000 people, in the region are food insecure, said a recent report from Region of Waterloo Public Health. That means 10 per cent of households can't afford healthy food.
In the past five years, the local price of  healthy food has increased more than 15 per cent — more than any other consumer good.
"In general, the issue with the cost of food isn't that the price goes up each year by a huge amount, it's that people in the community lack the income to buy it," said Matt Cooper, House of Friendship program coordinator.
Low income is related to contract work becoming more common, and the added pressures of rising utility bills, prescription medication costs and, of course, housing prices, said Wendi Campbell, executive director of The Food Bank of Waterloo Region.
"People want to make sure they have a roof over their heads and their family is cared for," Campbell said. "They would like to buy their own food, but what goes first?  What happens if someone gets sick?"
According to Region of Waterloo Public Health, a single parent with two children on Ontario Works receives about $2,000 a month. For that family to eat well — meeting Canada's Food Guide recommendations — they'd have had to spend a third of their income ($640 a month) on food. With rent averaging $1,000 for a two bedroom apartment, the family would have $370 left over for all other costs such as hygienic items, child care, Internet, clothing, prescriptions and transportation.
A family of four's income from Ontario Works is stretched even thinner. They would have to spend close to 40 per cent of their income to meet their nutritional requirements. A single person on Ontario Works renting a bachelor apartment for, on average, $700 a month would have only $68 a month left over for food and other expenses.
"Half the people we see on any given day are unattached individuals," said Cooper. "They are the ones having to spend the majority of their income to meet housing needs and have to make a lot of difficult compromises."  
Those not receiving government assistance also struggle. A family of four with a full-time minimum wage earner would have to spend 30 per cent of their income on healthy food and 40 per cent on rent.
A family of four earning the median Ontario income of $7,450 would spend only 12 per cent on healthy food.
The impacts of food insecurity are felt by more than just individuals, but by whole communities, said Nora Kozman, a public health dietitian.
Families that are food insecure face an increased risk of chronic disease and poor mental health and nutritional intake. In 2012, households in Ontario classified as "severely food insecure" had healthcare costs 120 per cent higher than households considered food secure.
"How are we going to support those impacted by food insecurity and increased health needs with social supports and public health care?" Kozman said.
Children living in food insecure households struggle more in school, she said. Adults have difficulty performing activities at work and at home.
Some gains have been made to address insufficient income levels. A basic income pilot is set to launch this spring in Ontario and a bill is making its way through Queen's Park to establish a social assistance research commission.  The commission would investigate how to improve financial assistance.
"A vicious cycle that feeds into itself," poverty is hard to escape and those affected need the community's help, Cooper said. He encourages people to educate themselves to understand the underlying causes of food insecurity and speak on behalf of those who are less able to.
"When people living in poverty spend the majority of their time going from one crisis to another —to eat, find bus fare, get to a job interview, get rid of a toothache — politics is not in the forefront of their mind," Cooper said.  "Talk to your MPP, write a letter to the editor, or take on an advocacy role.
"Donate something today to turn back the clock a little bit and get involved at the political level to try to make change for the future."
Or volunteer, like Perry.
"I'd like to break the stigma," she said. "Nobody should be made to feel less than anyone else."
Samantha Beattie is a reporter with the Waterloo Chronicle.