Refinishing

Furniture Stripping: We hand strip using a liquid or semi paste stripper depending on the furniture piece we are stripping. For "do-it-yourself" projects, we also offer a "strip only" service.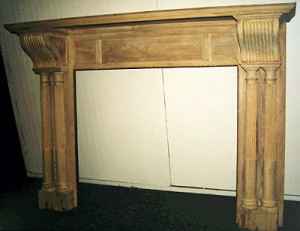 Furniture Staining: All furniture to be stained or finished goes through a sanding and small defect repair process. The amount of sanding depends on the kind of wood and how light or dark you are having your furniture stained. We work with several types of stains again depending on the wood, and the look you are trying to achieve on your furniture. You can bring us a sample of the colour you want your furniture matched to and we will match as close as possible. If the piece being refinished and the colour sample are different woods, then the colours will be close, however the different wood grains will give a different overall appearance. We will show you the colours before proceeding. If you want to just pick a nice colour for your furniture, we can show you colours right on your stripped furniture and then you can pick the one you like best. We will ask you some questions to help you zero in on some colour choices. Once the colour is selected we apply the stain by hand with brush and cloth, to get into all the detail carving and corners.
Finishing & Painting Furniture:
Clear Coat Finishes
These are the final steps after your furniture has been stained or when you are just putting a protective coat on the stripped furniture without any stain. This would be the same process used on newly built furniture. After cleaning any fine dust off your furniture, a sealing coat of lacquer is sprayed on using a high quality spray system. Once the sealer is dry it is sanded using a very fine sand paper. Now the first coat of finish is sprayed on. This also gets finely sanded after it is dry. Then further coats of finish of the desired sheen (dull satin semi-gloss, gloss) are sprayed on and sanded until the proper amount has been applied. You would pick the sheen for the look you want and also depending on how your furniture will be used.
Paint Finishes

If you would like your furniture painted, we also do "spray on" painting for you. Using high-end primers and quality paints, we can apply any colour you want. Depending on what you are having painted, we will tell you the kind of paint required and how much. You will then select your colour and we will do the painting. We have you select the colour as there are so many shades of every colour including white.

Oil Finishes and Teak Oil Finishes
Some pieces of furniture can be finished in a hand rubbed oil. Usually this is applied to older pieces of furniture or teak furniture.
Brass Lacquer Finishes

This is a special kind of finish that is used on brass beds or lamps after they have been polished.

Exterior finishes on House Doors

We use a special finish with U.V. protection to extend the durability on exterior doors. This is a slower drying finish that is only used on the exterior of your house door.
OTHER CUSTOM SPECIALTY FINISHES:
Kitchener Cupboard Refinishing
All doors and drawers are stripped and finished at our shop "The Strippers!" Fixed cabinetry is stripped and finished onsite. If need be "doors and drawers" are painted on our premises. You can paint the fixed cabinetry yourself or we can recommend a professional painter to do that for you!
Custom Built Furniture, Wall units and Additional Renovations
Our team at "The Strippers!" is always more than happy to work with other professionals such as renovators and/or custom woodworkers to stain or paint projects for their clients.
We also are capable of finishing intricate architectural window frames, trim and baseboards, stairways and railings, removed by the contractor for refinishing.
Insurance Claims (Fire, Flood, Vandalism)
In the event of an insurance claim, did you know that you have the right to choose who you want, to restore your furniture?
You do not need to provide multiple quotes (which only adds to your stress) when seeking restoration services for your damaged items. Give us a call! We can guide you through the process!
SPECIAL NOTE!
If you have a special project, that you think might require an unusually resilient finish, talk to us. We can help you!