Thank you for your continued, loyal support during this stay-at-home order!
We are here Monday to Saturday, fully staffed to answer your calls and emails.
Curbside service is available. Just call 519-576-8282 when you arrive. 
Pick-up and delivery are available by our COVID-approved, professional movers.
If you'd like a quote:
Email pictures of your furniture. Please include the length, width and height of cabinets, tables, etc.
Tell us what changes you would like, i.e., stain the same colour, different colour, or painted any colour you can imagine.
Maybe your furniture only needs repairs, or you just want something stripped and you will finish it yourself.  
Contact us anytime at: rita@the-strippers.com
We will reply in a few days when we've had time to review your pictures and determine price ranges for you. Thank you and stay well! We'll see you soon.
Fine furniture made with quality craftmanship deserves to be restored.
Do you have fine furniture that is missing pieces, is broken, or just worn and scratched? Have you recently gone shopping and come to the conclusion that the majority of furniture made today does not compare in quality to the craftsmanship of cabinetmakers years ago?
The quality furnishings you currently own can be refinished!
Who do you call? Who do you trust?
Who will guide you through the process of consultation, quotation and preparation? Phoning around for a ball park quote can lead to a wrong decision in your choice of a professional furniture refinishing company. Be an informed consumer!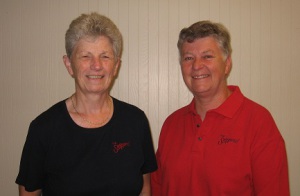 Margery and Rita have been in the furniture refinishing business for over 35 years. Their unique and caring approach to preservation of furniture is second to none!
"We have restored hundreds of thousands of pieces of furniture for clients and we are always surprised and disappointed when we see the "short cuts" that have been applied to what were once, quality furnishings. Sometimes those damaging results have made the furniture impossible to repair or contributed to the depreciation in value. Our experienced advice to you is "do not gamble when choosing a furniture refinishing company!"
After years of closely working with our clients, we created our Consumers Guide in which you will find useful information about
What qualifies as an antique vs good quality vintage furniture
When it is not okay to refinish an antique
When refinishing is a better investment than buying new
Stripping methods – what is safe and what is harmful to your furniture
The importance of value and lowest price
Determining sentimental value vs. market value
Included is a VERY IMPORTANT list of "Questions to Ask to Find the Right Professional Refinishing Company." We also explain why these questions are significant to hiring the right professionals.
Start with us. Check us out! Come to our store with pictures and examples of what is to be stripped, repaired or finished. Not only are we delighted to share our years of knowledge with you, we have very high standards and back them up with our 100% guarantee.
Call us, email us, come and visit us, with all your questions about colour changes, regluing, veneer repairs, caning, damaged or tired looking furniture. Our customers tell us they are glad they did!
With our many years of experience, and our highly trained and talented staff, we know we can help you get the results you want for your furniture.
We look forward to working with you!
Sincerely,
Margery Smith and Rita Wagner