Are your furnishings looking tired? Perhaps they have been broken, are missing pieces, have been moved once too often or just need some TLC! Have you recently gone shopping and come to the conclusion that the majority of furniture made today does not compare in quality to the craftsmanship of cabinetmakers years ago?
Due to today's mass production of "disposable furnishings" it becomes confusing and even frustrating when looking for quality pieces and when you do find them, the pricing is usually significant.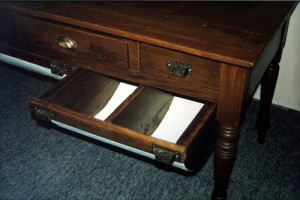 We encourage you to look again at the furnishings you currently own, with a creative eye. What about having it refinished? It may simply be a case of breathing "new life" into the wood, finish and/or repair of your items. But then, who do you call? Who do you trust? Who will guide you through the process of consultation, quotation and preparation?
Introducing Margery Smith and Rita Wagner from "The Strippers!"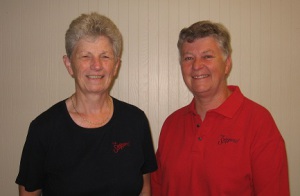 Margery and Rita have been in the furniture refinishing business for over 32 years. Their unique and caring approach to preservation of furniture is second to none!
"We have restored hundreds of thousands of pieces of furniture for clients and we are always surprised and disappointed when we see the "short cuts" that have been applied to what were once, quality furnishings. Sometimes those damaging results have made the furniture impossible to repair or contributed to the depreciation in value. Our experienced advice to you is "do not gamble when choosing a furniture refinishing company!"

Finding a professionally qualified and competent stripping and refinishing company to repair your items can be a daunting task. Where do you begin? For that purpose, we would like to make that easy for you by encouraging you to read our specially prepared Consumers Guide on furniture refinishing, this will assist you in making an educated decision when choosing a company to provide service to you. There are a number of things to consider when selecting the right company for the right job and some pitfall's to avoid!

After years of closely working with our clients, we have compiled seven free reports to help you select the right professional refinishing company to work with you on your next furniture restoration project.
MISCONCEPTIONS ABOUT FURNITURE REFINISHING
It truly can be challenging when determining whether or not your furniture is "antique" or simply "good quality vintage" furniture.
How do you know if you have an "antique" piece? Will refinishing my antique furniture lessen its value? In the consumer guide, available on our website, you will find useful information and guidelines as to:
What qualifies as an antique?
When it is okay to refinish an antique?
When it is not okay to refinish an antique?
Determining sentimental value vs. market value.
ASK THE RIGHT QUESTIONS
Over the years we have noticed that many refinishing inquires start with the wrong questions. Asking for a price and expecting a quote over the phone can lead to a wrong decision in your choice of a Professional furniture refinishing company.
THE "BALL PARK" QUOTE
When you insist on a "ball park quote", most refinishers suspect that you treat your furnishing as expendable and don't really care if you get shoddy workmanship. Hopefully for you, that is not the case.
Other questions and situation we are regularly asked about are white rings on table tops or faded tops on coffee tables. See our Consumers Guide to learn how to know "When to Strip and Finish" or when a "Touch Up" is all you need.
A lot of you ask us about dip stripping and sanding furniture. How do you know which stripping method is being used, and which one is the safest for your furniture? See our Consumer Guide to find out the only safe way to strip your family treasures.
What's the next step?
Now that you have all this inside information on refinishing or repairing your furniture, you are probably wondering what the next step is and how to pick the right Professional Refinishing Company. Well, to help you make that decision, we have compiled 3 crucial questions to ask any refinishing company you are considering.
As a BONUS in our Consumers Guide we have included a VERY IMPORTANT summary of "Questions to Ask to Find the Right Professional Refinishing Company." We also explain why these questions are significant to hiring the right Professionals. Print it out. Then we suggest you start with us. Check us out! Come to our store with pictures and examples of what is to be stripped, repaired or finished. Not only are we delighted to share our years of knowledge with you, we have very high standards and back them up with our 100% guarantee.
Thank you for finding us. We look forward to working with you!
We hope our free Consumers Guide on Furniture Refinishing, with our Bonus – Questions to Ask to Find the Right Professional Refinishing Company and sharing of our experience has been helpful. Call us, email us, come and visit us, with all your questions about colour changes, regluing, veneer repairs, caning, damaged or tired looking furniture. our customers tell us they are glad they did!
With our many years of experience, and our highly trained and talented staff, we know we can help you get the results you want for your furniture.
Thank you for reading this guide. Hopefully it will be your hindsight up front!
Sincerely,
Margery Smith and Rita Wagner

P.S. Don't forget to get your free Consumers Guide on Furniture Refinishing and Bonus – Questions to Ask to Find the Right Professional Refinishing Company.